About charm of Philippine studying abroad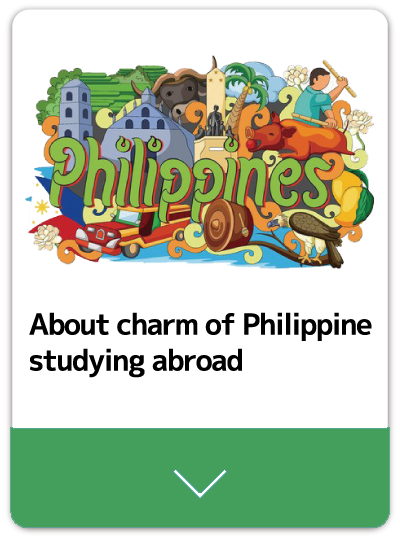 Studying abroad in the Philippines has been more popular as studying English. It is said the Philippines are one of the most famous countries where many people are able to communicate in English. Let's look at benefits of studying abroad in the Philippines.
Studying abroad in the Philippines is possible for students to take lessons for a long time. Compared to group lessons which are standard in studying English, 1 on 1 lesson is possible for students to focus much more in studying English. Especially, in increasing the listening and speaking skills compared with the common way of learning in English lessons.
You can arrange your lessons by following your preference, such as focusing on lessons with textbooks or free conversation lessons.
You are able to improve your motivation for studying English because you can ask your teacher about your question and concerns as soon as possible. In 1 on 1 lesson, you will not have any difficulties which you feel when you attend to a group lesson, such as waiting for other students and taking unsuitable lessons. This is the one of the advantages of 1 on 1 lesson.
Friendly and warm-hearted people
Basically, Filipinos are friendly and warm-hearted, so it is easy for them to talk with someone new from the beginning. These characteristics are very important for English teachers. These will help them teach students learn English in a nice and easy way.
Japanese animations, dramas and movies are being more popular in the Philippines. Many Filipinos have ever seen Japanese culture since they are born and this makes them to be interested in Japanese culture.
In addition, Filipinos have two traditional attitudes for their visitors, to show their hospitality to visitors and respect others. Those attitudes always make visitors feel to enjoy to have a communication with Filipinos. It is the one of the characteristics of the study abroad in the Philippines that you can enjoy to study not only in a school but also out of the school.
Commodity price in the Philippines is lower than any other countries. You can be able to stay here without any fears. Also, the environment for studying is well-organized and will make you concentrate in studying English.
It is enjoyable for you that you will go to shopping or spa and eat out after your lesson, isn't it? Moreover, there are a lot of famous sightseeing places in the Philippines. You are able to visit those places in your holidays. This is one of best advantages to study in the Philippines.
In fact, the Philippines has been more popular as the place to be immigrated after retiring work. We can see many foreigners from Asia, Europe and America because of the affordable commodity price, tropical climate and friendly and warm-hearted people. If you tried to use the local transportations and restaurants while you are in the Philippines, you will have the experiences which you have never had before.
| | |
| --- | --- |
| | This site is certified by Slogical. Information transmission from the SSL compliant page is protected by encryption. |